3000 Series 4-Leg Lab Stool
VIRCO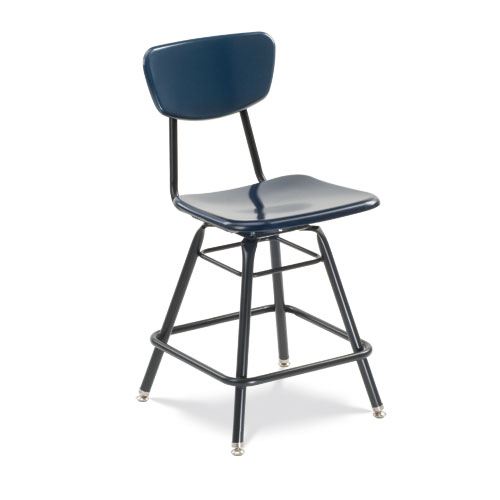 Image May Not Reflect Selected Options
You've Selected:
3818LS-CHRM-GRN75
3000 Series 4-Leg Lab Stool, 18", Chrome Frame Finish, Forest Green Seat Color
List Price: $716.00
Your Price: $290.45
Be the first to review this product.

Write a Review »
For an alternative to mobile lab stools, these 4-Leg lab stool have a fixed height and come without casters. The seat swivels 180° making it more accessible than the typical classroom chair.
Your choice of 3 frame finishes and 6 seat colors
You May Also Like
For your reference:
This item is also sometimes listed under the following manufacturer numbers
3818LS-BLK01-BLK01, 3818LS-BLK01-BLU40, 3818LS-BLK01-BLU51, 3818LS-BLK01-GRN75, 3818LS-BLK01-RED50, 3818LS-BLK01-RED70, 3818LS-CHRM-BLK01, 3818LS-CHRM-BLU40, 3818LS-CHRM-BLU51, 3818LS-CHRM-GRN75, 3818LS-CHRM-RED50, 3818LS-CHRM-RED70, 3818LS-GRY02-BLK01, 3818LS-GRY02-BLU40, 3818LS-GRY02-BLU51, 3818LS-GRY02-GRN75, 3818LS-GRY02-RED50, 3818LS-GRY02-RED70, 3821LS-BLK01-BLK01, 3821LS-BLK01-BLU40, 3821LS-BLK01-BLU51, 3821LS-BLK01-GRN75, 3821LS-BLK01-RED50, 3821LS-BLK01-RED70, 3821LS-CHRM-BLK01, 3821LS-CHRM-BLU40, 3821LS-CHRM-BLU51, 3821LS-CHRM-GRN75, 3821LS-CHRM-RED50, 3821LS-CHRM-RED70, 3821LS-GRY02-BLK01, 3821LS-GRY02-BLU40, 3821LS-GRY02-BLU51, 3821LS-GRY02-GRN75, 3821LS-GRY02-RED50, 3821LS-GRY02-RED70