Dakota™ Wine Racks
Wooden Mallet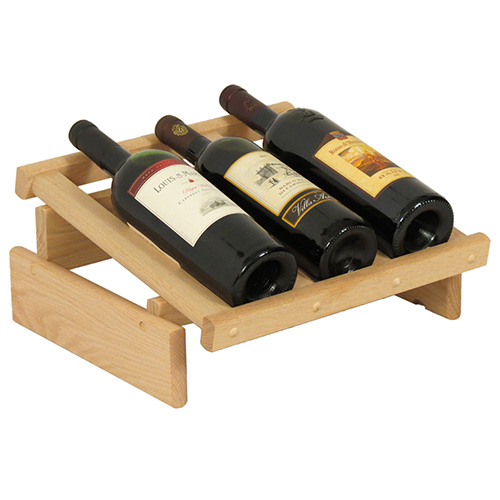 (Scroll over the thumbnails to view larger images)
Review Pricing & Add To Cart
You've Selected:
WRD3UN
Solid Oak Dakota™ Wine Rack - 3 Bottle Display Rack - 3 Wide - Unfinished
List Price: $45.00
Your Price: $24.99
Quantity Discounts:
Close
Looking for a quantity discount? The customer service staff at US Markerboard is expecting your call. Not only can we offer you quantity discounts on most any size order, but we will check for applicable product rebates and manufacturer promotions. Call us today at
1-800-791-2946
for all the details.
Quantity Discounts are always available.
Customer Reviews:
Be the first to review this product.

Write a Review »
Have Questions?
Wooden Mallet's beautiful solid oak Dakota™ Wine Racks will store and display your wine collection in style. Dakota™ Wine Racks are the most versatile and easily assembled racking system available. Our innovative design allows you to easily expand and reconfigure your shelving as your needs change. Create a countertop display, a floor display or design a custom cellar. Choose from over 30 standard configurations to design your custom racking.
Depth:

Display Top Unit: 12.875"
Straight Unit: 10.75"

Width:

3 Wide Unit: 14"
4 Wide Unit: 17.625"

Height Per Level: 6.5"
Solid Oak Construction
Eco-friendly sustainable red oak
Water-based UV coatings
Simple screwdriver assembly
Holds most 750ml bottles
Rounded edges for bottle/label safety
1 year manufacturer defect warranty
You May Also Like
For your reference:
This item is also sometimes listed under the following manufacturer numbers
WR31LO, WR31MH, WR31MO, WR31UN, WR32LO, WR32MH, WR32MO, WR32UN, WR33LO, WR33MH, WR33MO, WR33UN, WR34LO, WR34MH, WR34MO, WR34UN, WR35LO, WR35MH, WR35MO, WR35UN, WR36LO, WR36MH, WR36MO, WR36UN, WR37LO, WR37MH, WR37MO, WR37UN, WR41LO, WR41MH, WR41MO, WR41UN, WR42LO, WR42MH, WR42MO, WR42UN, WR43LO, WR43MH, WR43MO, WR43UN, WR44LO, WR44MH, WR44MO, WR44UN, WR45LO, WR45MH, WR45MO, WR45UN, WR46LO, WR46MH, WR46MO, WR46UN, WR47LO, WR47MH, WR47MO, WR47UN, WRD31LO, WRD31MH, WRD31MO, WRD31UN, WRD32LO
, WRD32MH, WRD32MO, WRD32UN, WRD33LO, WRD33MH, WRD33MO, WRD33UN, WRD34LO, WRD34MH, WRD34MO, WRD34UN, WRD35LO, WRD35MH, WRD35MO, WRD35UN, WRD36LO, WRD36MH, WRD36MO, WRD36UN, WRD37LO, WRD37MH, WRD37MO, WRD37UN, WRD3LO, WRD3MH, WRD3MO, WRD3UN, WRD41LO, WRD41MH, WRD41MO, WRD41UN, WRD42LO, WRD42MH, WRD42MO, WRD42UN, WRD43LO, WRD43MH, WRD43MO, WRD43UN, WRD44LO, WRD44MH, WRD44MO, WRD44UN, WRD45LO, WRD45MH, WRD45MO, WRD45UN, WRD46LO, WRD46MH, WRD46MO, WRD46UN, WRD47LO, WRD47MH, WRD47MO, WRD47UN, WRD4LO, WRD4MH, WRD4MO, WRD4UN
...
Show All