Egan™ Dimension Stele Magnetic Presentation Board
Egan Visual, Inc.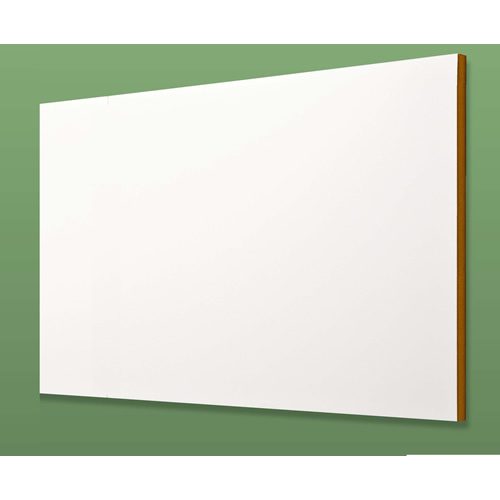 (Scroll over the thumbnails to view larger images)
Review Pricing & Add To Cart
You've Selected:
DM4836NA
Dimension Stele Magnetic Presentation Board, 36"H X 48"W, Natural Edge Color, No Flush Option
List Price: $980.00
Your Price: $661.99
Quantity Discounts:
Close
Looking for a quantity discount? The customer service staff at US Markerboard is expecting your call. Not only can we offer you quantity discounts on most any size order, but we will check for applicable product rebates and manufacturer promotions. Call us today at
1-800-791-2946
for all the details.
Quantity Discounts are always available.
Customer Reviews:
Be the first to review this product.

Write a Review »
Have Questions?
- Or -
Create a massive professional presentation surface with a monolithic, vanishing edge appearance with outstanding functionality. Egan Versa Presentation Surface (EVS) is an exclusive proprietary-technology surface that is guaranteed-to-clean, projection-capable, and both standard and Egan NeoMagnet compatible from edge to edge. The high-quality, low gloss, dry erase surface has a 160° comfortable viewing angle projection surface. Dimension Stele LINXX connectors (sold seperately) gives you the ability to install individual boards vertically offset for varying heights for a unique visual appearance. Custom sizes, Features and Color Edges are also available.
Please Note, if ordering along with Dimension Stele LINXX, only the White graffiti-resistant edge finish is availableFlush Option:
Choosing not to add a flush finish to your board means that your board will 'hover' 3/8" from the wall. If you are selecting a board with both sides having a flushed finish then both sides will have panels that will cover those visible gaps.
If you are selecting the outside left board with a flush finish, the left side will have an extra panel that allows it to sit touching the wall while the opposite side of the board will have a hover like gap.
If you are selecting a flush option to the right outside side of the board, then it will have a hover like gap appearance on the left side.
These one sided flush options are ideal for use along with unflushed boards to create a larger presentation surface with a flushed finish on both ends.
Boards mount with 3/8" space between wall and back of board
Mounting cleats included
Custom response
Compatible with Dimension Stele LINXX Connector Kit (ACDMLINK-KIT)
Magnet compatible
Matte White, Low Gloss and Low Glare Finish
Guaranteed to clean
Ideal for Projection
Monolithic construction with vanishing edge
Greenguard Compliant
10 Year Surface Warranty
You May Also Like
For your reference:
This item is also sometimes listed under the following manufacturer numbers
DM4836NA, DM4836NAFFL, DM4836NAFFLFFR, DM4836NAFFR, DM4836WH, DM4836WHFFL, DM4836WHFFLFFR, DM4836WHFFR, DM4848NA, DM4848NAFFL, DM4848NAFFLFFR, DM4848NAFFR, DM4848WH, DM4848WHFFL, DM4848WHFFLFFR, DM4848WHFFR, DM6048NA, DM6048NAFFL, DM6048NAFFLFFR, DM6048NAFFR, DM6048WH, DM6048WHFFL, DM6048WHFFLFFR, DM6048WHFFR, DM7248NA, DM7248NAFFL, DM7248NAFFLFFR, DM7248NAFFR, DM7248WH, DM7248WHFFL, DM7248WHFFLFFR, DM7248WHFFR, DM7748NA, DM7748NAFFL, DM7748NAFFLFFR, DM7748NAFFR, DM7748WH, DM7748WHFFL, DM7748WHFFLFFR, DM7748WHFFR, DM8251NA, DM8251NAFFL, DM8251NAFFLFFR, DM8251NAFFR, DM8251WH, DM8251WHFFL, DM8251WHFFLFFR, DM8251WHFFR, DM9648NA, DM9648NAFFL, DM9648NAFFLFFR, DM9648NAFFR, DM9648WH, DM9648WHFFL, DM9648WHFFLFFR, DM9648WHFFR