Royal® Book Tub Family
Copernicus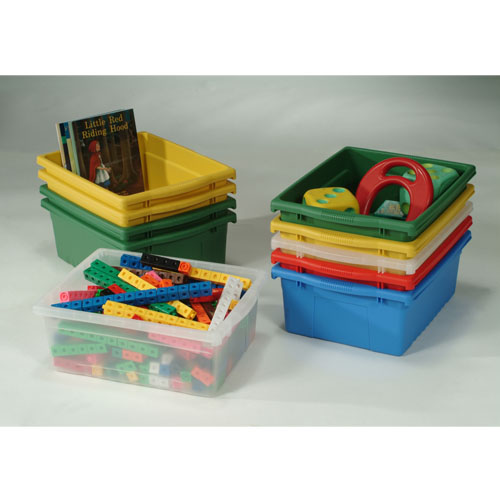 (Scroll over the thumbnails to view larger images)
Review Pricing & Add To Cart
You've Selected:
CC4068
Royal™ Open Tub
-

Yellow Color
List Price: $11.60
Your Price: $7.99
Quantity Discounts:
Close
Looking for a quantity discount? The customer service staff at US Markerboard is expecting your call. Not only can we offer you quantity discounts on most any size order, but we will check for applicable product rebates and manufacturer promotions. Call us today at
1-800-791-2946
for all the details.
Quantity Discounts are always available.
Customer Reviews:
Be the first to review this product.

Write a Review »
Have Questions?
Designed to accommodate a variety of storage needs, the Royal® Book Tub Family includes several great designs with an emphasis on book storage. They can fit into existing Copernicus products, including all Royal® Reading/Writing Centers, Book Browsers, and Multi-Storage Carts. Features a manufacturer's lifetime warranty. Choose from Open Tubs, Large Divided Book Tubs, Small Book Tubs, Small Divided Book Tubs, Really Big Tubs, Tiny Tubs, or the Stubby Tubby.
A variety of Premium Tub Packs that combine some of the most popular tub models are also available.
The durable, lightweight wire Tiny Tub Caddy is a great way to keep art supplies or other classroom materials neatly organized and accessible. The Tiny Tub Caddy comes with six Tiny Tubs.
CC4068 Open Tub is perfect for general use storage and measures 15"L x 12"W x 6"D
CC4069 Divided Book Tub has 2 built-in dividers to keep books upright and organized in all three sections; measures 15"L x 12"W x 6"D
CC4070 Small Book Tub is great for smaller quantities of books and measures 15"L x 6"W x 6"D
CC4071 Small Divided Book Tub is ideal for guided/leveled reading and chapter books up to 6"W. Has two built-in dividers to keep books upright. Also accommodates CDs & VHS tapes. Measures 15"L x 8-1/2"W x 6"D
CC4073 Really Big Tub is able to store a wide variety of classroom supplies. Measures 25"L x 13"W x 6"D
CC4074 Stubby Tubby is great for storing paper or small items. Measures 15.75"W x 12.5"L x 3"H
PTP-8, PTP-9, and PTP-10 Tiny Tubs are sets of Tiny Tubs. Each set is divided into an equal amount of green, orange, and purple Tiny Tubs (sets contain 6, 12, or 24 Tiny Tubs). Each Tiny Tub measures 2.5"W x 4.5"L x 3.75"D
PTP-11 Premium Tiny Tub Pack is a set of 6 Tiny Tubs (2 each of green, orange, and purple) with 1 yellow Open Tub
PTP-1 Premium Tub Pack 1 includes 8 Small Book Tubs (2 each of blue, red, yellow, and green) and fits all 30" and 38"W Royal® models
PTP-2 Premium Tub Pack 2 includes 2 Large Divided Tubs (1 each of green and yellow), 1 Open Tub (red), and 2 Small Book Tubs (blue) and fits all 30" and 38"W Royal® models
PTP-4 Premium Tub Pack 4 includes 4 Stubby Tubbys and 2 Open Tubs; it's designed for Queen Size Royal® Reading/Writing Centers
PTP-5 Premium Tub Pack 5 includes 4 Stubby Tubbys and 2 Open Tubs; it's designed for Standard Size Royal® Reading/Writing Centers
PTP-6 Premium Tub Pack 6 includes 2 Large Divided Tubs (1 each of blue and red), 2 Open Tubs (1 each of green and yellow), and 4 Small Tubs (1 each of blue, red, green, and yellow) and is designed for Royal® 46"W models
PTP-13, PTP-14, PTP-15, and PTP-17 Premium Tub Packs for Stubby Tubbys are packs of Grey Stubby Tubbys (8, 16, 24, or 32)
TTC1 Tiny Tub Caddy features six Tiny Tubs (2 each of green, orange, and purple) and measures 13.5"W x 8.5"L x 6"H
You May Also Like
For your reference:
This item is also sometimes listed under the following manufacturer numbers
CC4068, CC4069, CC4070, CC4073, CC4074