Mobile and Reversible Whiteboards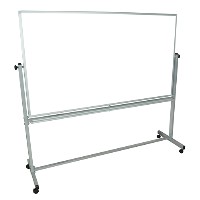 Assembled Dimensions:
Product Information:
Porcelain Steel Writing Surface with Lifetime Warranty
Revolving model allows panel to be flipped over
Aluminum Frame with 3/4" Face
Full length 2-3/4" Aluminum Chalktray with Polished Radius Ends
Fully welded steel tube frame with Powder Coated Finish
Turn your stationary board into a traveling lesson:Interactive boards can hitch a ride, too:Holds up to a 200 pound board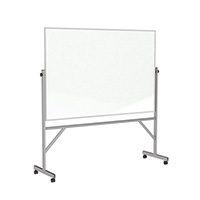 Includes 4 casters with 2 locking wheels, 4 markers, and an eraser
Reversing mechanism designed to make flipping to the other side a snap
Steel lock clamps adjust to secure board to preferred position
Full-length accessory tray and reinforced legs add bracing for stability and security
Backed with a 10 year warranty. Made in the USA and is TAA compliant
Assembled Dimensions:
Product Information:
Egan Versa Presentation Surface (EVS)
Single panel only. No split panel configurations
A slight margin reveal of approx. 1/32" will appear at the edges of the frame
Link option not available
Torx®wrench included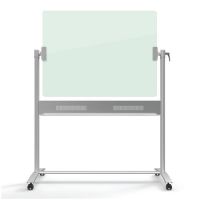 Presentation easel has triple functionality; Reversible(36"H X 48"W only) dry-erase whiteboard, magnetic bulletin board and flipch...
Frameless white glass will not stain or ghost and is tempered for safety
Easy to use flipchart holders are built-in
The 36"H x 24"W easel is height adjustable from 67" to 77" tall
Smooth rolling, star-base wheels allow quick and easy mobility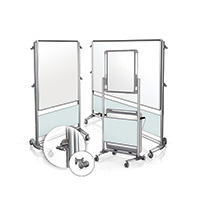 Moveable, working station has it all: Ideawall, Easel, Caddy, Tablet Boards, and X-Pegs
A whole world of ideas can be contained and displayed in tons of new ways on varying sized boards
Tablet Whiteboards are light, portable, and can be used on your lap
An extra-large, magnetic whiteboard provides huge amounts of brainstorming space
Easel pegs incorporate tablet whiteboards onto the display
10-year guarantee gives you the assurance of great quality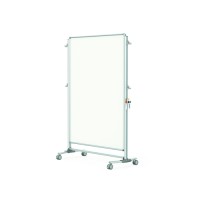 Dimensions:
Markerboard
Works well in an open office
Can be used to create temporary walls
Jr. Unit is ideal for ADA compliance. "seated height"
Mobile and Reversible Whiteboards
Our Mobile Freestanding Reversible Whiteboards, Chalkboards and Bulletin Boards help you save space on your wall and make easy-to-see presentations anywhere at anytime in your office or classroom. We offer assorted surfaces, from full corkboard, chalkboard, and high-quality dry erase whiteboard to part bulletin-part whiteboard. Choose from a number of designs, sizes, and writing and posting surfaces.