Sport & Activity Games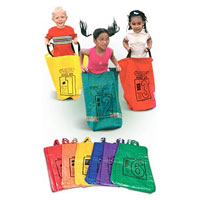 View Item
Jumping Bags
$20.99 - $60.99
Sport & Activity Games
Our Sports & Activity Games keep kids active, in shape and engaged in the playroom or at school. These products feature durable construction and are safe to use for indoor and outdoor activities.Jumping Bags help children work on coordination. Have potato sack races,
Balance Beam
lessons, and
Balance Bikes
for a full range of ways to get kids to be active and coordinated.
Hopscotch Rugs
make the
Jumping Bags
even more fun giving children goals of places to hop to.Let children tire themselves out while they learn new ways to get active!