Unframed Whiteboard Material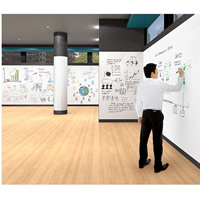 Porcelain over aluminized steel for flexibility
Unlike paints and films, Sharewall® is engineered from a high quality magnetic porcelain coated aluminumized steel for the ul...
Matte projection grey and matte projection white for clarity and minimized glare are also available (projection surfaces are wet e...
The alloy surface is durable, and will erase cleanly, even after heavy use
Trim options available. Install clips to surface and attach trim for a clean and finished appearance
Ideal for meeting rooms, training rooms, classrooms
Combines projection and dry-erase capabilities
Can be field cut during installation for switches and other knockouts
Rolls 36" High - Up to 7' Long and may be slit horizontally for custom applications
Variety of marker trays available
Two product lines available: VersaPRO-H and VersaPRO-G
Great projection screen and guaranteed-to-clean markerboard combination
EganINK compatible to make your unique project even more meaningful
VersaPRO requires professional installation
The installer is an independent contractor that you can engage directly for your project and they will warrant your installation d...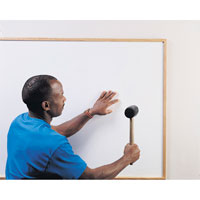 Features Magnetic Whiteboard surface.
Whiteboard Sheets come with a special installation tool that safely protects the exposed metal edges while making resurfacing fast...
Resurfacing sheets are individually packed for safe transit and easy on-site handling. The unique packaging design eliminates the ...
Choose from 5 sizes to fit your wall or board
These skins are considered custom and are therefore non-returnable
Unframed Whiteboard Material
At Classroom Plus we have a full section of unframed whiteboards for many different applications. Choose from our pre-adhesive panels to adhere directly to your wall or cover over your chalkboard. The unframed whiteboards and dry erase panels come in a variety of thicknesses for most any application and if you require a specific thickness, please let us know, we will work to accommodate the specifications of the project.
Re-surface your old markerboard, convert a chalkboard or wall into a dry erase surface, or fit a custom sizes into a specific space, Classroom Plus has the unframed board that is perfect for your application. We sell writable dry erase self-adhesive skins, porcelain steel panels, replacement dry erase vinyl, and markerboard wall coverings. Custom sizes and colored graphics are our specialty. They're easy to install on your desired surface and best of all, they don't leave behind an unmanageable mess. Choose the material that suits you and turn your wall or board into your ideal dry erase writing surface.