Wall Mounted Conference Room Cabinets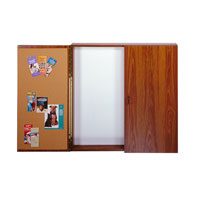 Measures 48" x 48".
A 3" interior depth provides enough room to store Markers, Erasers, or other materials when the doors are closed.
The Unit extends 5" from the wall.
Available in mahogany or medium oak.
Both cabinet doors are hinged and feature a magnetic door latch to securely close over your writing and posting surfaces when not ...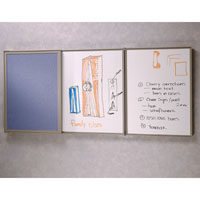 Closed Dimensions: 24"H x 36"W
Hangs from walls or divider panels with included mounting accessories.
Features 72" long Whiteboard surface when fully open, 36" long fabric tack board when fully closed.
May be shipped via UPS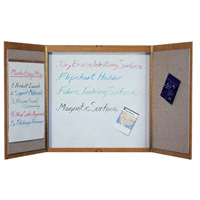 Doors feature magnetic closures and full-length hinges.
Includes mounting system.
Cork Bulletin panels on the out side.
Dry-erase writing panel inside cabinet.
Solid oak finish casing, magnetic closures and full-length hinges.
Mount with pre-drilled holes.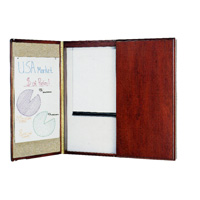 Rich finish with radius edges, full-length hinges, and magnetic door closures.
Includes mounting system.
Wall Mounted Conference Room Cabinets
Wall-mounted Conference Room Cabinets encase dry-erase boards in a sophisticated looking enclosure. No longer will a whiteboard be a potential aesthetic problem or distraction. Simply close or lock the board behind sliding or swinging doors and walk away. The board can be out of sight and out of mind until it is needed once again.Some cabinet doors can be used as a tackboard surface for additional display options. Board surfaces come in EVS, EganBoard, Magnetic, Porcelain-on-Steel, and more! Cabinets come in a variety of material to complement your décor.Class up a conference room or other business office with a whiteboard cabinet!rn